Steve Judd - Books
You can now purchase all Steve Judd's books directly from his website. All copies of his books will be signed by Steve personally.
Please click on the 'Buy Now' links below to purchase and you will be redirected to PayPal.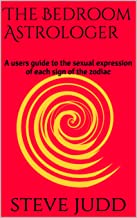 The Bedroom Astrologer: A users guide to the sexual expression of each sign of the zodiac
This book is about sex in its various different manifestations and about astrology at a number of different levels, and how they blend and interact - or not.
"Must Read, see yourself, understand yourself, learn about others and enjoy. Great book Steve. Looking forward to reading your next book."
- Paula
OUT OF STOCK
The Lore of Pluto
Pluto's existence has been known about for less than 100 years. In that time a number of different astrological translations of its meaning have been postulated. The Lore of Pluto presents information on the discovery, astronomy and mythology of the planet Pluto.
This book is excellent. Steve Judd is a fantastic astrologer, you will not be disappointed.
- Adam